Stamford, CT
Cummings & Lockwood LLC

6 Landmark Square

Stamford,
CT
06901
Phone:
203.327.1700
Fax:
203.351.4535
Contact
Michelle Granata
Director of Human Resources and Benefits
203.351.4521
mgranata@cl-law.com
Trust and Estate Planning, Corporate, Litigation and Commercial Real Estate Attorneys in Stamford, Connecticut
Cummings & Lockwood's Stamford, Connecticut office is the largest of the Firm's offices and serves as its headquarters. Our attorneys provide a broad range of legal services to individuals, families, charitable foundations and closely-held businesses, as well as Fortune 500, middle market and emerging companies.
Our services include:
Private Clients - Trusts and estates planning, wealth protection, fiduciary services, philanthropic giving, business succession planning, family office services
Corporate - Corporate governance; partnerships, LLCs, LLPs and joint ventures; mergers and acquisitions; venture capital; investment management; and tax
Litigation - Business and commercial litigation, trust and probate litigation, real property and environmental litigation, asbestos defense/toxic torts/product liability litigation, employment litigation, bankruptcy and creditor's rights, tax litigation, closely-held business litigation
Commercial Real Estate - Commercial real estate financing, development, leasing, and sales and acquisitions
For more information about our services, please contact one of our attorneys today.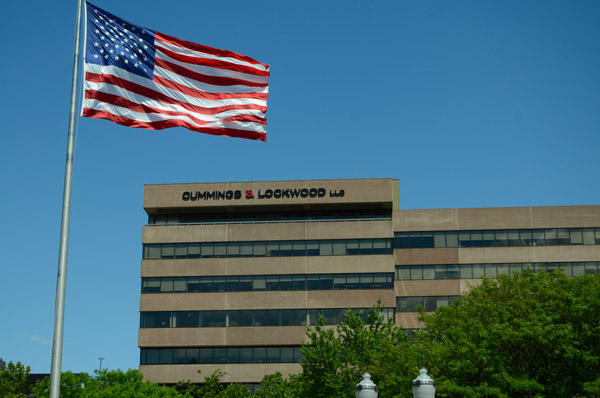 FROM I-95 (NORTHBOUND - FROM NEW YORK)
Take I-95 North to Exit 8 (Canal Street)
At light at the end of a very long exit ramp, turn left onto Canal Street (which becomes Greyrock Place) and continue to the 5th traffic light and turn left onto Broad Street (approximately ½ mile)
Continue on Broad Street to next traffic light and turn left onto up ramp for Landmark Square/Reckson Business Center
Drive up ramp and proceed to valet parking station. Leave your car with the valet and bring ticket with you
Walk straight through Building Four through glass connector into Building Six
In Building Six, take the elevator to our reception area on the 9th floor where our receptionist will validate your parking ticket
FROM I-95 (SOUTHBOUND - FROM NEW HAVEN)
Take I-95 South to Exit 7 (Atlantic Street)
At 2nd traffic light after getting off exit ramp, turn right on Atlantic Street
Continue on Atlantic for approximately ½ mile and turn right onto Broad Street
At first traffic light, turn right up ramp for Landmark Square/Reckson Business Center
Proceed to valet parking station. Leave your car with the valet and bring ticket with you
Walk straight through Building Four through glass connector into Building Six
In Building Six, take the elevator to our reception area on the 9th floor where our receptionist will validate your parking ticket
FROM MERRITT PARKWAY (NORTHBOUND - FROM NEW YORK)
Take Exit 34 - Long Ridge Road.
At the end of the exit ramp, take a right onto Long Ridge Road.
Travel South on Long Ridge Road for approximately 2 miles
Turn right onto Cold Spring Road
Follow the road as it curves to the left and becomes Washington Boulevard
Continue on Washington Boulevard for approximately 1 mile
Turn left at the light onto Broad Street (The University of Connecticut will be on your left)
Travel through three traffic lights (the intersection of Atlantic & Broad is the third), and stay in the right lane
At the fourth traffic light, turn right onto the driveway ramp marked "Reckson Business Center Visitor Parking"
Leave your car and car keys with the valet attendant on the deck (bring your valet ticket to our receptionist)
Walk into the Building Four entrance at the valet station
Proceed straight through Building Four and on through the glass-enclosed walkway leading to Building Six
Take the elevator to the 9th floor
FROM MERRITT PARKWAY (SOUTHBOUND FROM NEW HAVEN)
Take Exit 34 - Long Ridge Road.
At the end of the exit ramp, take a left onto Long Ridge Road.
Follow directions from above
NOTE: GPS and navigation application users, please input 101 Broad Street
Name
Title
Practice Group
Office
Phone
Email
vCard

Associate

T203.351.4288

F203.708.5611

Associate
Litigation Group
Stamford, CT
203.351.4288

Principal

T203.351.4395

F203.708.3812

Principal
Private Clients Group
Stamford, CT
203.351.4395

Principal

T203.351.4447

F203.708.3849

Principal
Litigation Group, Commercial Real Estate Group
Stamford, CT
203.351.4447

Principal

T203.351.4280

F203.708.3933

Principal
Litigation Group, Commercial Real Estate Group
Stamford, CT
203.351.4280

Principal

T203.351.4259

F203.708.3825

Principal
Private Clients Group, Commercial Real Estate Group
Stamford, CT
203.351.4259

Principal

T203.351.4298

F203.708.5623

Principal
Private Clients Group
Stamford, CT
203.351.4298

Associate

T203.351.4198

F203.708.3861

Associate
Private Clients Group
Stamford, CT
203.351.4198

Principal

T203.351.4206

F203.708.3907

Principal
Litigation Group
Stamford, CT
203.351.4206

Principal

T203.351.4317

F203.708.3816

Principal
Private Clients Group
Stamford, CT
203.351.4317

Principal

T203.351.4106

F203.708.3805

Principal
Litigation Group, Family Office and Closely Held Business Group
Stamford, CT,
Palm Beach Gardens, FL
203.351.4106, 561.312.7880

Associate

T203.351.4417

F203.708.3828

Associate
Private Clients Group
Stamford, CT
203.351.4417

Principal

T203.351.4174

F203.708.3897

Principal
Corporate & Finance Group
Stamford, CT
203.351.4174

Principal

T203.351.4100

F203.708.3887

Principal
Commercial Real Estate Group, Corporate & Finance Group, Private Clients Group, Family Office and Closely Held Business Group
Stamford, CT
203.351.4100

Principal

T203.351.4343

F203.708.3954

Principal
Private Clients Group, Family Office and Closely Held Business Group
Stamford, CT
203.351.4343

Associate

T203.351.4323

F203.708.3908

Associate
Private Clients Group
Stamford, CT
203.351.4323

Counsel

T203.351.4516

F203.708.3916

Counsel
Corporate & Finance Group
Stamford, CT
203.351.4516

Principal

T203.351.4656

F203.708.3990

Principal
Private Clients Group
Stamford, CT
203.351.4656

Senior Counsel

T203.351.4334

F203.708.3830

Senior Counsel
Commercial Real Estate Group, Corporate & Finance Group
Stamford, CT
203.351.4334

Principal

T203.351.4209

F203.708.3803

Principal
Corporate & Finance Group, Family Office and Closely Held Business Group
Stamford, CT
203.351.4209

Principal

T203.351.4164

F203.708.3840

Principal
Private Clients Group
Stamford, CT
203.351.4164

Principal

T203.351.4308

F203.708.3814

Principal
Private Clients Group, Family Office and Closely Held Business Group
Stamford, CT
203.351.4308

Counsel

T203.351.4276

F203.708.5641

Counsel
Commercial Real Estate Group, Corporate & Finance Group, Family Office and Closely Held Business Group
Stamford, CT
203.351.4276

Principal

T203.351.4677

F203.708.3892

Principal
Litigation Group
Stamford, CT
203.351.4677

Associate

T203.351.4194

F203.708.3837

Associate
Litigation Group
Stamford, CT
203.351.4194

Counsel

T203.351.4692

F203.708.3850

Counsel
Private Clients Group
Stamford, CT
203.351.4692
Directions
FROM I-95 (NORTHBOUND - FROM NEW YORK)
Take I-95 North to Exit 8 (Canal Street)
At light at the end of a very long exit ramp, turn left onto Canal Street (which becomes Greyrock Place) and continue to the 5th traffic light and turn left onto Broad Street (approximately ½ mile)
Continue on Broad Street to next traffic light and turn left onto up ramp for Landmark Square/Reckson Business Center
Drive up ramp and proceed to valet parking station. Leave your car with the valet and bring ticket with you
Walk straight through Building Four through glass connector into Building Six
In Building Six, take the elevator to our reception area on the 9th floor where our receptionist will validate your parking ticket
FROM I-95 (SOUTHBOUND - FROM NEW HAVEN)
Take I-95 South to Exit 7 (Atlantic Street)
At 2nd traffic light after getting off exit ramp, turn right on Atlantic Street
Continue on Atlantic for approximately ½ mile and turn right onto Broad Street
At first traffic light, turn right up ramp for Landmark Square/Reckson Business Center
Proceed to valet parking station. Leave your car with the valet and bring ticket with you
Walk straight through Building Four through glass connector into Building Six
In Building Six, take the elevator to our reception area on the 9th floor where our receptionist will validate your parking ticket
FROM MERRITT PARKWAY (NORTHBOUND - FROM NEW YORK)
Take Exit 34 - Long Ridge Road.
At the end of the exit ramp, take a right onto Long Ridge Road.
Travel South on Long Ridge Road for approximately 2 miles
Turn right onto Cold Spring Road
Follow the road as it curves to the left and becomes Washington Boulevard
Continue on Washington Boulevard for approximately 1 mile
Turn left at the light onto Broad Street (The University of Connecticut will be on your left)
Travel through three traffic lights (the intersection of Atlantic & Broad is the third), and stay in the right lane
At the fourth traffic light, turn right onto the driveway ramp marked "Reckson Business Center Visitor Parking"
Leave your car and car keys with the valet attendant on the deck (bring your valet ticket to our receptionist)
Walk into the Building Four entrance at the valet station
Proceed straight through Building Four and on through the glass-enclosed walkway leading to Building Six
Take the elevator to the 9th floor
FROM MERRITT PARKWAY (SOUTHBOUND FROM NEW HAVEN)
Take Exit 34 - Long Ridge Road.
At the end of the exit ramp, take a left onto Long Ridge Road.
Follow directions from above
NOTE: GPS and navigation application users, please input 101 Broad Street